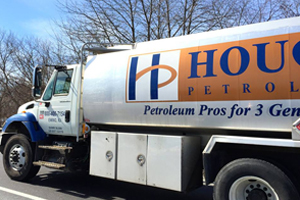 Hough Petroleum is a leading supplier of gasoline, diesel fuel, biodiesel, diesel exhaust fluid and lubricants to all types of industries.
We operate a state-of-the-art bulk and packaged goods facility, centrally located to serve all of New Jersey, Southeastern Pennsylvania and Northern Delaware. Our facility is certified, ensuring product quality and integrity.
In addition to fuel and lubricant products, Hough Petroleum has a vast network of professionals to assist you with your storage and equipment needs.

Hough Petroleum has been serving the local business community for four generations. Our 70+ years of experience are invaluable and available to you year-round.

Call us today at 1-800-400-7154 or contact our sales team member in your area, directly.
Diesel Exhaust Fluid (DEF)
Since 2010, emissions legislation now requires diesel vehicles to significantly reduce emissions and particulate matter (air pollution). We advise our customers to meet these standards by using Diesel Exhaust Fluid (DEF). DEF is a new product that can destroy harmful exhaust emissions, and is required by many heavy-duty trucks, pickups, SUVs and vans delivered after January 2010.

A non-hazardous liquid, DEF consists of 67.5% de-ionized water and 32.5% urea, and is used in combination with Selected Catalytic Reduction (SCR) technology. DEF is sprayed into the exhaust and combines with a catalyst to break down NOx (nitrogen oxides) into nitrogen and water. When NOx and volatile organic compounds (VOCs) react in the presence of sunlight, they form photochemical smog, a significant form of air pollution, especially in the summer.

SCR technology offers greater fuel efficiency, increased vehicle reliability and longer oil change intervals, which means greater savings for you.

As of 2011, a number of manufacturers of agricultural, construction and forestry equipment also use SCR and DEF in order to meet the EPA's stringent environmental standards.
Contact Hough Petroleum for more information.
Biodiesel
Biodiesel is a clean burning, renewable fuel made primarily from American soybeans. It produces lower emissions, and its natural cleaning agent and lubricants improve engine performance while reducing maintenance costs. Biodiesel can be used in any diesel engine with no modifications and is available for on-road and off-road use in blends from 2% to 20% depending on your needs.
Premium Diesel Fuel
Hough Petroleum delivers premium diesel fuel and premium biodiesel for the winter months of November through March. This premium product includes an additive that will reduce the fuel's tendency to develop flow problems in extremely cold weather. This additive addresses pour point, smoke, power, lubricity and more.
Here's a short checklist of some other things you can do to ensure worry-free operation of your equipment all year long:

Preventive Maintenance Checklist for our Superior Winterized Diesel Fuel
Change your vehicle's fuel filter with the manufacturer's recommended size.
Check your vehicle's water separator daily and drain any water buildup immediately.
Drain your vehicle's tank bottoms to remove water and other contaminants.
Check your vehicle's fuel cap and vent to ensure that water cannot enter.
Check your storage tank for water (using water paste) and other contaminants.
Replace your dispensing pump's fuel filter (recommended 30 micron).
Make sure that all fills, vents and overfills on your storage tanks are tight and in proper operating condition.
Paint your AST (aboveground storage tank) white or silver to reflect the sun's heat, thus, reducing moisture buildup from condensation.
These preventive maintenance items, along with our premium diesel fuel blend, should provide a trouble-free winter.